2012 TROPICAL INNOVATION AWARDS ESTABLISH INNOVATION AWARD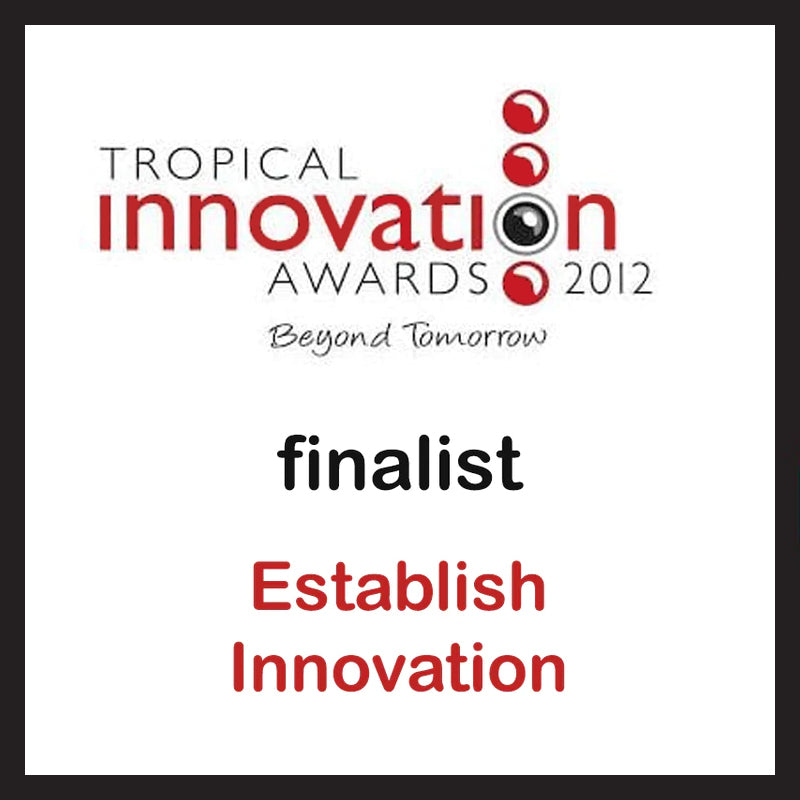 ESTABLISH INNOVATION AWARD - FINALIST
The Tropical Innovation Awards are a program to identify businesses and individuals developing new and innovative products and processes in the Tropical North.
We were greatly honoured to be a Finalist for the Establish Innovation Award 2012.
These Awards aim to recognise, reward and support innovation, invention and commercialisation across North Queensland;
To build economic diversification, sustainability and resilience through the creation of an outward looking business culture built upon opportunities unique to the Australian Tropics
To showcase and brand North Queensland as the centre of tropical
expertise and knowledge for the tropical world
Provide opportunity for inventors, innovators & businesses to showcase their inventive & innovative ideas, projects & processes to potential investors, mentors, government officials & public
It is an opportunity for applicants to realise the potential commercial value of their invention or innovation and contribute to the export & employment potential of the region
To focus on the importance of innovation in driving key economic benefits for the region including:
Better, more competitive business practices
Developing and driving 'locally-grown' export opportunities
Stimulating employment generating activity
To find out more about the Tropical Innovation Awards please contact the Cairns Council or read here for more information & contact details
Get your hands on your own EasyOven today!
Great in your kitchen or a perfect addition to Camping, Boating & well pretty much Anything!